24V DC Motor with Gearbox for High Torque
Publish Time:
Author: Site Editor
Visit: 2144
A 24V DC motor with gearbox is small, yet powerful enough to be used in many different scenarios. Since choosing the right 24V DC motor with a gearbox for a specific use can be challenging, it's important to work with a trustworthy company. If you're looking for a company, consider ZHAOWEI. ZHAOWEI has years of creating high-quality 24V DC planetary gear motors and offers a line of micro DC gear motors 24VDC available in many different sizes, ranging from 3.4mm to 45mm in diameter. It consists of a motor as the drive force and micro planetary gearbox (reducer). Compact in size, these gear motors can deliver torque from 1.0 gf.cm to 50kgf.cm. Designed for all types of usage, both standard and custom drive systems are available.
Types of 24V DC Motor with Gearbox Available
Motors can be broken into two categories based on whether they have brushes or not.
24V DC motors with brushes are the most a commonly seen type, typically used in cost-sensitive scenarios where the control system is relatively simple.
24V DC motors without brushes tend to have a longer service life, require little maintenance, and deliver improved efficiency over time, although the initial cost is often higher.
Customizable Technical Parameters of 24V DC Motor High Torque Series:
Dimension: 3.4mm-45mm
Material: Plastic or Metal
Output torque: 1gf.cm -50kgf.cm
Gear ratio: 5-1500
Output speed: 5-2000rpm
Applications: automobile, 5G communication, intelligent medical, smart home, consumer electronics, intelligent robot, industrial automation, etc.
Typical Applications of 24V DC Motor with Gearbox
ZHAOWEI makes it possible to combine 24V DC gear motors with an encoder (if needed). The 24V DC gear motor with an encoder can be adopted as an ideal system in cases where precise positioning must be performed in constrained spaces and, at the same time, high torque is required. This includes the fields of robotics, medical technology, laboratory automation, and industrial automation. Some examples include:
Automobile: Many vehicles, including electric and other types, incorporate 24-volt DC motors in various locations. They're often found powering a range of moving or adjustable components, such as wipers, seats and mirrors.
Home Automation: Handheld tools, electric curtains, rotating speakers and many others small appliances that we use each day often rely on these motor types.
Robotics: Smart robots, such as child escort robots, interactive voice communication robots, walking robots, and building block robots also use these motor types.
★ Case Demonstration:
24V DC Gear Motor with High Torque for Robot Joint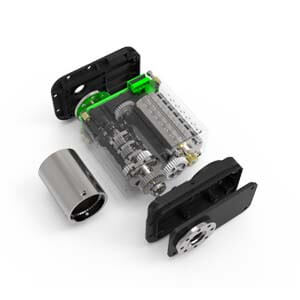 Operating voltage: 24V
Rated current: 1.22 A
Rated torque: 4.2N·m
No-load speed: 3.8rpm
Rated speed: 34rpm
Minimum control angle: 0.17°
Joint mode: 0〜360°
Operating temperature: 0~60°
Description: Here, the motor is applied to the angle sensor and gear drive device for the robot, making the rotation of robot joints and positions of other movable parts more flexible. Powerful manufacturing and assembly technology ensures high-precision performance. With an angle sensor encoder embedded into joints, the 24V DC motor with a gearbox enables precise angular displacement within the span of 360°. With it, robots can achieve six degrees of freedom (6 DOF). When it comes to the gearbox, the adoption of planetary gearheads makes it possible to increase output torque to a higher level with small enough backlash that there's no impact on the overall servo dimensions. Additionally, sensing devices look out for changes in position, transferring the collected data to a controller inside the servo housing. The controller module acts as an intellectual hub that processes the feedback to establish what needs to be adjusted to achieve the desired position. Commutation with electronics instead of brushes also allows for greater responsibility and capabilities. ZHAOWEI's evolution of 24V DC planetary gear motors has led to the rise of new capabilities in robotics.
Please see our 24V Motor page for more information. Use the 24V gear motor with an encoder to adjust the torque and RPM within any range required.