Geared Tripod Head Stepper Motor Parameters
Publish Time:
Author: Site Editor
Visit: 1839
The geared tripod head stepper motor is a type of stepper motor used for the rotating base of photographic equipment, which functions to reduce speed, and increase torque. The main transmission structure is assembled by a stepper motor (motor) and a planetary gearbox (reducer). The planetary gearbox uses a satellite gearhead, cylindrical gearhead, or worm gearhead as the reducer, while the stepper motor uses a micro low-power stepper motor. Different stepper motors are suitable for different types of smart tripod heads, and their technical parameters such as gear ratio, transmission noise, transmission accuracy, and gearbox structure are usually customized.
ZHAOWEI Machinery & Electronics Co., Ltd provides a set of customized development services for motorized pan-tilt head. The customized technical parameters provided by ZHAOWEI are shown below:
Diameter: 3.4mm-38 mm
Voltage: ﹤24V
Output power: ﹤50W
Output speed: 5-1500rpm
Gear ratio: 2-2000
Output torque: 1.0gf.cm -50kgf.cm
Parameters of Geared Tripod Head Stepper Motor:
| | |
| --- | --- |
| Material | Plastic |
| Outer diameter | 12mm |
| Operating temperature | -20℃~+85℃ |
| Direction of rotation | cw&ccw |
| Gear backlash | ≤3° |
| Voltage (Optional) | 3V~24V |
| Bearing | Porous bearing/Rolling bearing |
| Input speed | ≤30000rpm |
| Axial endplay | ≤0.3mm/≤0.2mm |
| Current | 250mA max |
| Radial load on output shaft | ≤5N/≤10N |
| Motors (Optional) | Stepper Motor |
Case of Customized Development Service:
Project Name: Smart Motorized Tripod Heads
Project Background: Geared tripod heads used for cameras help expand monitoring range, and further enhance the use value of the camera. Under the action of the control voltage (the output voltage of the tripod head controller), the motorized tripod head can be rotated horizontally and vertically for "panoramic" shooting, to better capture the desired target in a wider range.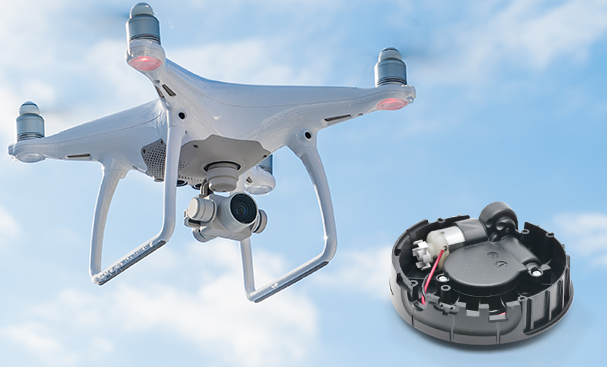 Achievement: ZHAOWEI focuses on the development of micro gearboxes. It uses a permanent magnet DC motor for transmission, and uses the drive gearbox, which consists of worm gears, worm wheels, and helical gears. This effectively reduces the vibration and noise produced from the motorized pan-tilt head. Gap jitter may appear in the operation of regular tripod heads. However, ZHAOWEI's finite element analysis based on the tooth profile improves service life and optimizes gear backlash.