In industrial production, we often need to use valves to control the flow of fluid medium according to the actual needs, and switch valves can meet the industrial needs well. A switch valve refers to the valve that has the on-off function and can be divided into pneumatic and electric valves, of which the electric valves use electrical energy as power supply to drive the on-off of the valves through the electric actuator so as to achieve the purpose of controlling the pipeline medium.
ZHAOWEI's self-designed switch valve drive system has a relatively high output power comparing with other similar products in the same volume, a longer service life under high loads than them and can achieve lower noise. The axial footprint of the switch valve drive system structure is relatively small and its self-locking force is relatively large. Therefore, in the process of production and design, it is necessary to design a structure with high transmission ratio which has long service life and good performance in a compact space under the situation of improving the efficiency of the worm helical gear.
This drive system can not only be applied to switch valves, but also to drive valves that require a certain self-locking force.
Extended Application 1
Name:VAV Solution
Function:It is mainly used to improve the precise control and adjustment of indoor temperature and air volume of the building.
Main Performance:
1、Effectively reduce indoor CO2 concentration and improve indoor air quality
2、Accurately control zone temperature and improve indoor environmental comfort
3、Low-noise gearboxes to create a quieter office environment
4、Support manual adjustment of switch angles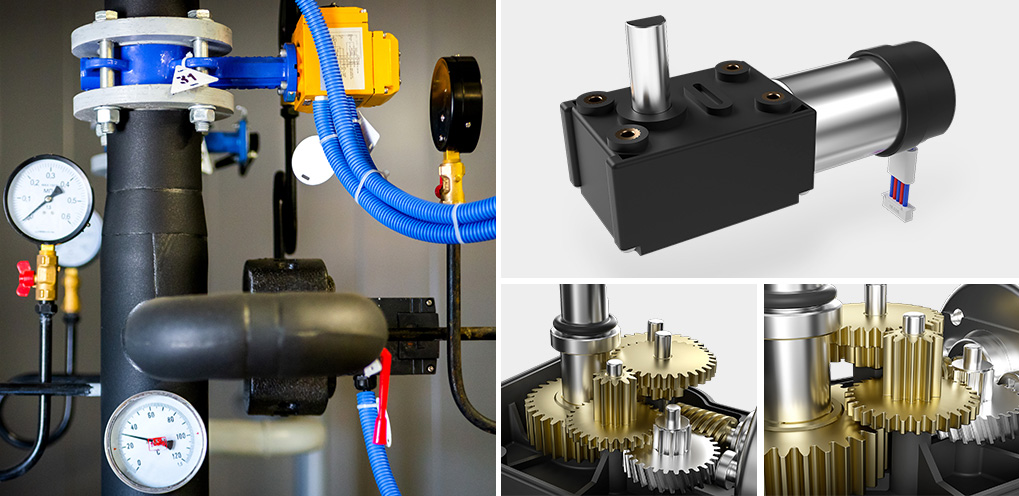 Extended Application 2
Name:Flow Control Ball Valve Automatic Adjustment Actuator
Function:According to the pulse signal given by the controller, the chilled water valve spool is adjusted through the motor and transmission mechanism to make the water flow meet the demand.