12V Gear Motor with Encoder
Publish Time:
Author: Site Editor
Visit: 1192
The micro 12V gear motor is one of the most widely used low-power reducers. Based on the common use that intends for use at a rated voltage of 12V DC, many 12V DC gear motor manufacturers provide several kinds of standard gear drive systems. Here, ZHAOWEI also offers custom systems to meet different needs.
The ZHAOWEI planetary gear motor 12V DC motor series consists of a drive motor, planetary gearbox and optional encoder which have many uses ranging from automobiles to smart homes. The encoder which is mounted on the shaft and provides a quadrature output for precise reading of the motors relative position can be also modified based to your needs. Coupled with a gearbox, a multiple of the encoder's accuracy (reduction ratio) can be achieved for a variety of speed and torque.
Due to its performance, the ZHAOWEI 12V gear motor with encoder options has gained a lot of popularity. Here are some examples of how it's been used.
Case Demonstration
Case 1: 12V Gear Motor for Automotive Tailgate Latch Lock
Voltage: 12V
No-load Speed: 300±10% RPM
Load Speed: 208±10% RPM
Rated Load: 1.1 N.m
No-load Current: 2A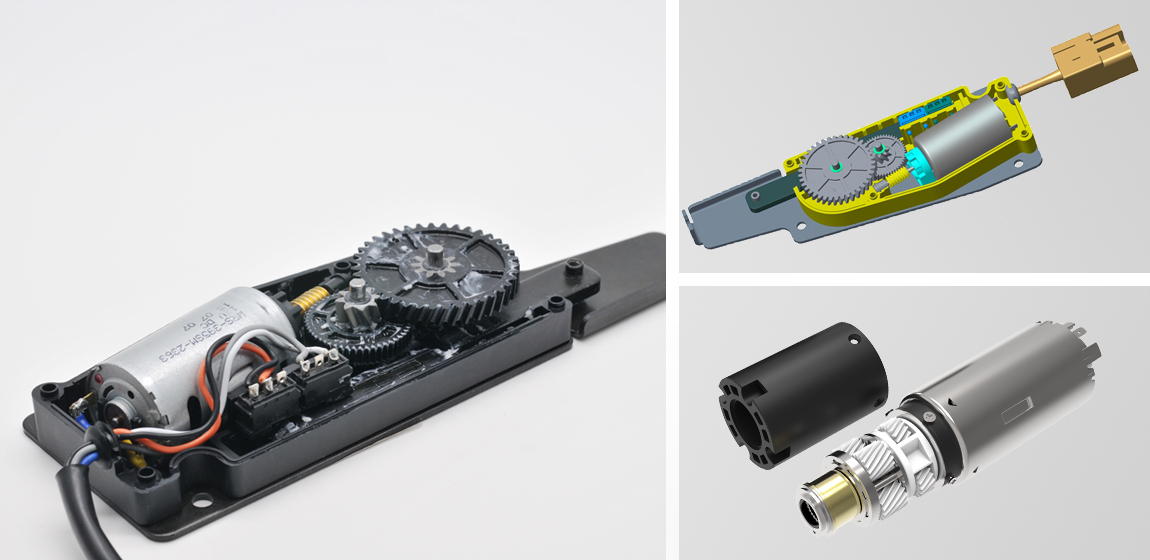 Product Description
ZHAOWEI has optimized the gearbox of the whole tailgate drawline of the car and adjusted the structure of the control line, increasing the torque of the car's electric drawline and reducing the noise of the gearbox. This 12V gear motor for automotive tailgate latch lock consists of a spindle thread actuator and outer tubes. The inner tube of the motor and the gearbox transmits a threaded spindle, which is fixed on a screw nut on the inside of the outer tube to move. The electric push rod uses the electric spindle located in the motor in the pushrod to open and close the trunk lid spring and open the trunk cover. All specifications can be customized to meet different needs.
Case 2: 12V Gear Motor for Air Conditioner Front Panel Opening
Rated Voltage: 12V
Frequency: 250PPS
Current: 250mA
No-load Current: 1.2A
Rated Load: Customizable
No-load Speed: Customizable
Ambient Temperature: Customizable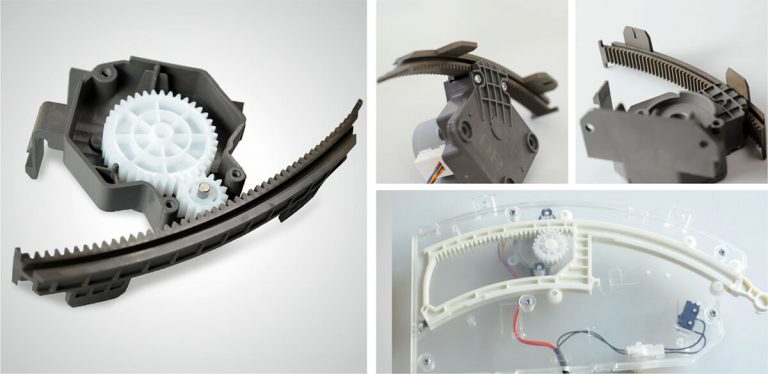 Product Description
The 12V gear motor for air conditioner front panel openings is combined with planar gears & circular gears and driven by a micro motor. To achieve the smooth rotation of meshed gears, ZHAOWEI has attached great importance to the backlash. It's also quiet and has a high efficiency, creating a pleasant experience when using the air conditioner. The 12V gear motor designed for this application enables the front panel to wind up and down at a larger angle by adjusting the gear specifications such as torque and reduction ratio.
Case 3: 12V Gear Motor for Car Seat Adjustment
Voltage: 12V
No-load Speed: 300±10% RPM
Load Speed: 208±10% RPM
Rated Load: 1.1 N.m
No-load Current: 2A
Locked-rotor Torque: Customizable
Counter Torque: Customizable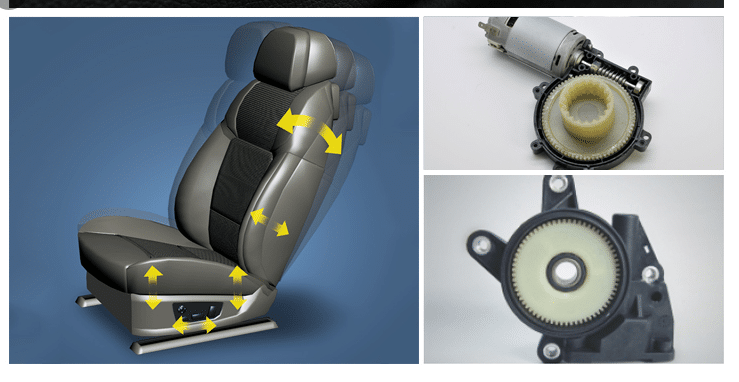 Product Description
ZHAOWEI uses a miniature permanent magnet DC motor combined with helical teeth to move the car seat. This makes it possible to control the seat circuit path and current direction through the control switch on the door armrest, thus intelligently adjusting the seat's level, height, and angle. The seat can be adjusted in 12 directions flexibly by using the control keys, improving the driving experience without changing your posture.
All ZHAOWEI drive systems perform effectively in reducing speed and increasing torque. In the cases above, ZHAOWEI has demonstrated its competence as a drive system provider and has extended the gear motor series by adding corresponding gearheads and integrated encoders as well as speed controllers. All components have been optimized to powerfully perform their functions together.
Customization Services for 12V DC Motor Series:
Dimension: 3.4mm, 4mm, 6mm, 8mm, 10mm, 12mm, 16mm, 18mm, 20mm, 22mm, 24mm, 28mm, 32mm, 38mm
Material: Plastic or Metal
Output torque range: 1gf.cm – 50kgf.cm
Gear ratio: 5-1500
Output speed: 5-2000rpm
Encoder: Optional
Applications:
automobiles, communication devices, medical technology, smart homes, consumer electronics, robots, industrial automation, personal care, etc.
Please see our 12V DC Gear Motor page for more cases about 12V DC motor specifications (PDF available). Use the 12V gear motor together with an encoder to adjust the torque and RPM within any range that you need.