Inspection Robot Gear Motor Parameters
Publish Time:
Author: Site Editor
Visit: 713
The inspection robot is a kind of robot that travels along the high-voltage overhead transmission line to replace or assist the manual inspection for special power operation. It plays a vital role in the production and daily life and enjoys a promising prospect with a wide range of applications.
Inspection robot gear motor is a small power transmission gear motor, whose main transmission structure is a piece of decelerating transmission equipment assembled by the integrated manufacturing of a drive motor and gearbox (reducer). The drive motor can adopt brushed DC motor, BLDC motor, stepper motor, coreless motor and servo motor as the drive source while the gearbox can adopt planetary gearbox, worm gearbox and general gearbox as the reducer. The technical parameters of the inspection robot motor gearbox system are customized for development including the output power, voltage, reduction ratio, output torque, input speed, transmission accuracy, transmission noise, type of drive motor, the structure of gearbox, material, specification, etc. Where to buy suitable robotics motors for robots?
ZHAOWEI Machinery & Electronics Co., Ltd strives to research & develop, design and manufacture robot gear motor transmission system service. The customized technical parameters of this kind of micro gear motor transmission system developed by ZHAOWEI is below:
Diameter: 3.4mm-38 mm
Voltage: below 24V
Output power: below 50 W
Output speed: 5rpm-1500 rpm
Speed ratio: 5-2000
Output torque: 1.0 gf.cm -50kgf.cm
It is compact and lightweight with strong overload ability, high efficiency and low heat rate.
Inspection Robot Motor Parameters:
| | |
| --- | --- |
| Material | Metal |
| Outer diameter | 32mm |
| Operating temperature | -30℃~+100℃ |
| Direction of rotation | cw&ccw |
| Gear backlash | ≤2° |
| Voltage (Optional) | 3V~24V |
| Bearing | Porous bearing/Rolling bearing |
| Input speed | ≤15000rpm |
| Axial endplay | ≤0.1mm |
| Current | 300mA max |
| Radial load on output shaft | ≤120N/≤180N |
| Motors (Optional) | Stepper/BLDC/Coreless Motor |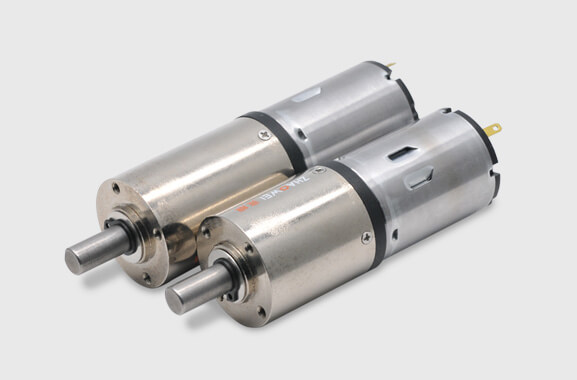 Customized Development of Robot Gear Motor Service Case:
Project Name: Gear Motor for Intelligent Robot Wheeled Walking
Project Background: With the popularity of STEAM education and the rise of artificial intelligence as well as 5G, intelligent robot product suites and various extension components are springing up. Intelligent robots can operate according to the preprogrammed programs or the principles laid down by artificial intelligence technology. Mature intelligent products can replace manual tasks, such as manufacturing, construction, or dangerous tasks. Classified by the robotic locomotion patterns, the robot can be divided into wheeled type, legged type, caterpillar type, snake type, combined type, etc.
Project Introduction: The wheeled walking driving part of the robot adopts a combination of a DC motor robot needs and a 38mm planetary gearbox, with an anti-symmetric installation mode. This way facilitates to reduce the force bearing point of the reducer output shaft, greatly shorten the wheelbase and save space under the situation that the wheelset can be coaxial and a respectively large power can be offered (the motor dimension is usually proportionate to the power in a certain extent), thus making the robot small in size. Due to the adoption of this installation method, the choice of the motor can be more extensive. ZHAOWEI takes pride in its 38mm metal gear motor robot compatible to improve the torque and reduce the speed. Besides, it is feasible to take advantage of the self-lock in friction to enable the braking function when needing to stop, while extending the wheelbase to meet the installation needs of the wheelset.