What are Low-Noise Gear Motors?
Publish Time:
Author: Site Editor
Visit: 423
The low-noise gear motor is a deceleration device with a noise lower than 45dB, and it is a low-powered micro deceleration motor. The drive motor can use a DC motor, stepper motor, coreless motor, or micro motor as its drive source. The gear motor can use a planetary gearbox, cylindrical gearbox, or worm gearbox as its reducer.
The Parameters of Low-Noise Gear Motor Developed by ZHAOWEI:
Transmission noise: under 45dB
Diameter: 3.4mm to 38mm
Voltage: under 24V
Output power: under 50 W
Output speed: 5rpm to 2000rpm
Speed ratio: 5-1500
Output torque: 1 gf. cm – 50 kgf.cm
The technical parameters of our low-noise gear motor can be easily customized according to clients' requirements.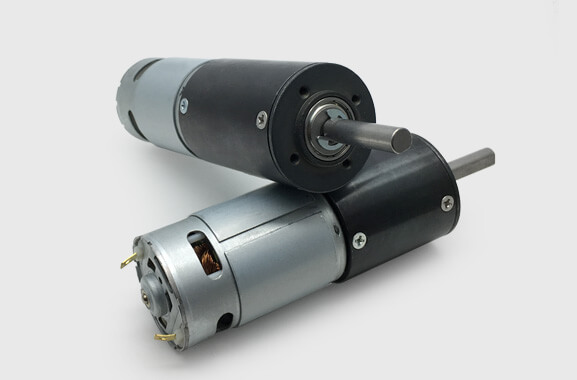 According to the structure of the gear motor, low-noise gear motors can be divided into coaxial gear motors and 2-stage cylindrical gear motors. The coaxial gear motor is structurally compact, small in size, attractive, has good overloading capacity, a wide range of reduction ratio, low energy consumption, impressive performance, high deceleration rate, and low vibration. Micro gear motors have strong versatility, are easy to use and maintain, and have low maintenance cost. The new type of gear motor uses a new sealing device which has better protection performance and environmental adaptability. It can work continuously in harsh environments including corrosive and humid environments.
2-stage cylindrical gear motors can be divided into high-speed split types and low-speed split types. High-speed gear motors perform better when splitting. The gears on the low-speed shaft are arranged symmetrically with respect to the bearings, and the tooth load is evenly distributed. The coaxial mounting method of gear motor is radially compact, but the axial dimension is relatively larger. In addition, the windings are larger when the shaft is loaded. Due to the long intermediate shaft, the load concentration is serious.
The low-noise gear motor is widely applied to consumer electronics, precision medical equipment, intelligent robot transmission, 5G commercial device, intelligent logistics, intelligent city, intelligent medical, intelligent automobile, printing machine, flame cutting, laser cutting, NC machine tool, food packaging, automation industry, aeronautical facility, semiconductor device, medical technology, robot, manipulator, communication equipment, pharmaceutical equipment, printing equipment, packaging machinery, textile machinery, parking facilities, precision monitoring system, vehicle industry, automatic control system.