Gear Motor for Electric Screwdrivers
Electric screwdrivers are versatile electric hand tools designed to drive screws. Compared to their manual counterparts, they help save time and effort on tasks such as assembling furniture, fixing plasterboard, and replacing an outlet cover. ZHAOWEI's drive system can ensure the precise control of the electric screwdriver's rotation speed and torque.
In the late middle ages, The earliest screwdrivers were invited as a manufacturing tool. In the 1930s, as the auto industry was beginning to boom and cars were being produced on an assembly line using automated power tools, the Phillips head screwdriver attracted the focus as soon as it was introduced. Nowadays, screwdrivers have become one of the necessary tools in the industry and daily assemble. Compared to traditional manual screwdrivers, electric screwdrivers are more effortless, convenient, and accurate, using widely in industry manufacture, especially in the industries that require precise control such as the aerospace industry. When producing an electric screwdriver, some important parameters need to be paid attention to, including efficiency, speed, torque, power, etc.
BLDC Gear Motor Achieves Rotating at a Uniform Speed
The rotation speed is an essential element when choosing a good electric screwdriver. Generally speaking, smooth running with little vibration and speed stage adjustment are the basic requirements for the electric screwdriver. In order to achieve the requirement, a brushless DC gear motor, with the advantage of long life and low noise, is suitable for the electric screwdriver. ZHAOWEI's drive system, consisting of a brushless DC motor and planetary gearboxes, provides two-stage, three-stage, and four-stage transmission changes available for applications of different materials.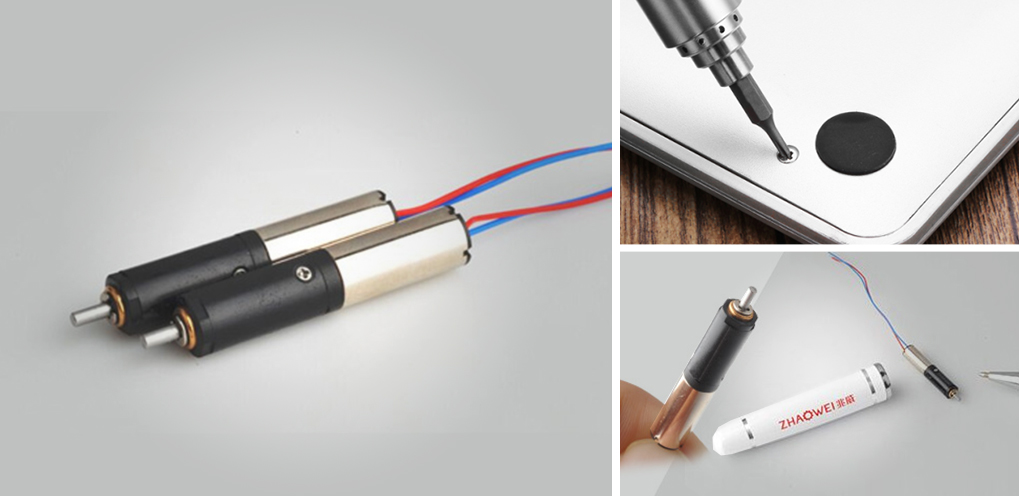 BLDC Gear Motor Enables Controlling Torque Precisely
The tightening and loosening torque is another point, it's important to consider. Precise torque setting, adjustment, measurement, and stability of electric screwdrivers is an important factor, which influences the work quality in assembly and screw-tightening, and thus determines production efficiency and product quality. The torque is directly linked with the drive motor. Heat generation, running vibration, and working efficiency also directly affect the torque of the electric screwdriver. Therefore, a brushless DC gear motor is an ideal choice. ZHAOWEI's brushless DC gear motor enables high torque as well as low speed, which can avoid damage by overdrive.
ZHAOWEI Machinery & Electronics Co., Ltd provides a set of customized development services. The customized technical parameters provided by ZHAOWEI are shown below:
Diameter: 3.4mm-38 mm
Voltage: ﹤24V
Output power: ﹤50W
Output speed: 5-2000rpm
Gear ratio: 2-2000
Output torque: 1.0gf.cm -50kgf.cm
In addition to electric screwdrivers, we also provide solutions for conveyor electric drum, peristaltic pump, circuit breaker, feed mixer, switch valve, control valve, seismic testing equipment and vending machine.